VOLUNTEER MINISTERS DELIVER PRICELESS AID IN ECUADOR AFTER DISASTER STRIKES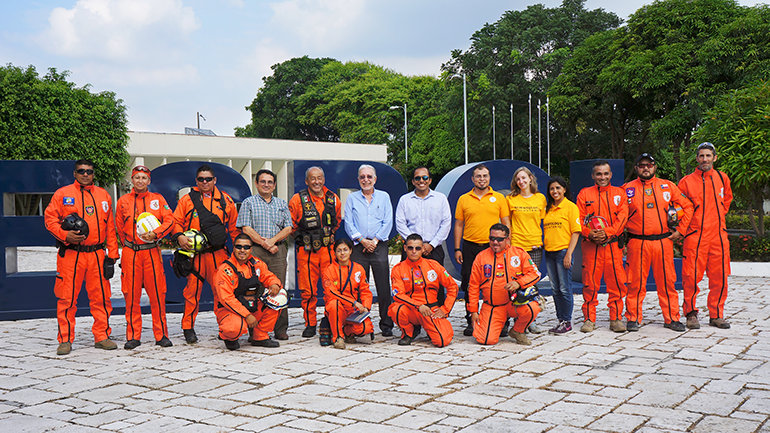 After Ecuador's devastating earthquake, Volunteer Ministers brought their unique brand of help—alleviating both physical and spiritual pains—to more than 160,000.
The magnitude 7.8 earthquake that rattled the central coast of Ecuador on April 16th killed more than 650 people and injured more than 27,000 in the worst natural disaster to hit the country in more than 65 years.
Sixteen Volunteer Ministers arrived on site immediately and began distributing food and clothing, as well as delivering assists—simple techniques to bring about physical and spiritual relief—to shocked survivors. One such victim was a 107-year-old woman in tremendous pain. After receiving an assist, she experienced great relief, and began kissing the hands of the Volunteer Minister (VM) who helped her.
Meanwhile, VMs organized and financed transport for 18 members of the elite Mexican Los Topos search and rescue team. Longtime VM partners, Los Topos landed and got to work in towns like Pedernales, where 77 percent of buildings lay in dusty piles at their feet. Through their expert skill, they held the death toll down, rescuing and saving nine who had been trapped beneath debris.
Across the cities and towns of Calceta, Canoa, Chone, Guayaquil, Junin, Portoviejo and Salinas, Volunteer Ministers pressed on, delivering assists to mayors, police officers, doctors and nurses. They traveled more than 54,000 miles and trained more than 1,100 individuals—from art university students to naval officers—in the tools to rise above the rubble and overcome the personal and collective setback of the disaster.
"I want to congratulate you in the name of Chone for what you are doing," wrote one of the 34 psychologists there who received Volunteer Minister training. "During these times, we were in confusion but now we are clearer on what to do and how to help people."
All told, the Volunteer Ministers helped more than 160,000 people in Ecuador.
"I was not able to do anything by myself because I was in shock," recalled one man. "But after the help, I became again self-sufficient… I really want to thank [the VMs] for coming to help."
One father was profoundly grateful. He accepted an assist at the urging of his two daughters, who were cheerful after they received their own. He told the Volunteer Ministers that while others were bringing food, water and supplies, the help they had given his family was priceless.
---
TAKING ACTION
Got a problem? We'll help you solve it.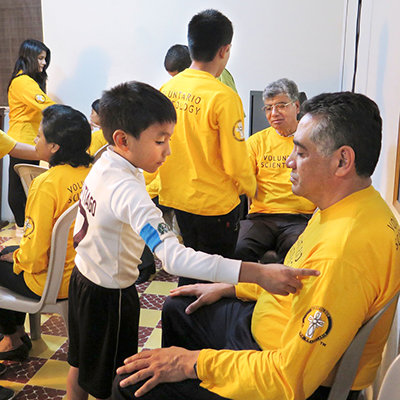 No matter how bad the circumstances, there are Scientology tools you can employ as a Volunteer Minister to turn them around. Something can be done about it.
What problem do you want to help your friends, family, colleagues or community with? Contact us and we'll direct you to the right tool or course for the task.
One woman from Tennessee often found herself helpless to stop the fighting of those around her until she took the How to Resolve Conflicts Course.
"Now I have a tool that will help me bring harmony to people," she writes. "I've always wondered why people can be great friends for years and all of a sudden they hate each other. Well now I know exactly what to look for, and I know exactly how to help them."
---
DONATE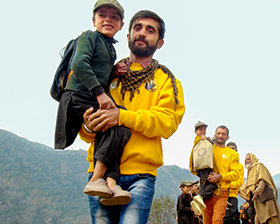 Volunteer Ministers are on call across the globe and around the clock to respond to any and every disaster. Your contribution will fund volunteer travel as well as food, water, tents and medical supplies for disaster victims.