HELPING FAMILIES COPE WITH THE DEVASTATION OF HURRICANE MICHAEL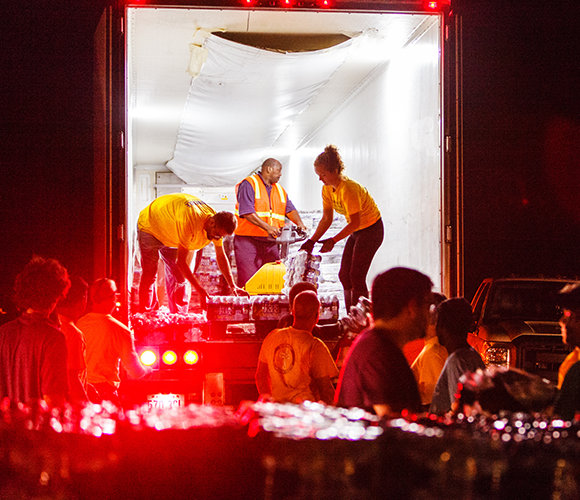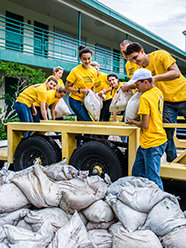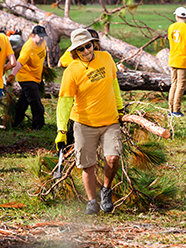 Volunteer Ministers were immediately on the ground, helping families recover after Mexico Beach, Florida, was all but destroyed by Hurricane Michael.
Mexico Beach was a scenic vacation spot on the Florida Panhandle known for its small-town hospitality, fishing and white-sand beaches. Then Hurricane Michael blasted the coastal community, destroying virtually everything in its path.
VMs provided support to first responders during the search-and-rescue phase and then stayed in the town helping families, many of them living in their storm-damaged homes without water or electricity.
"We wrapped a house in tarps," said a VM. "The elderly lady who lives there lost her entire roof when it was blown off in the storm. She has nowhere else to go for now."
Carrying chain saws, VMs moved through the town, chopping up toppled trees. Others set up a Distribution Center where they handed out water, hygiene kits and baby supplies.
"I would like to send my sincerest appreciation to you and your organization for response efforts after the devastation from Hurricane Michael."
While the physical damage was devastating, the hurricane's emotional impact was no less intense. "One woman was standing outside her home crying," said a VM. "She lives alone—and has lived there all her life. All the windows were broken, it's boiling hot outside and there's no water or power. And she has no family." The VM gave her a Locational Assist. "At the end of the assist, she stopped crying and said she felt okay now." The woman realized she could step back now and look at the situation—she may have lost her windows, but at least she had her home.
In the nearby city of Callaway, VMs cleaned up the local cemetery and several local parks, including Veterans Park, one of the city's proudest spots. The Mayor of Callaway took notice and wrote the VMs an official thank you: "I would like to send my sincerest appreciation to you and your organization for response efforts after the devastation from Hurricane Michael to our community. As we begin our long journey to recovery, we will always remember the kindness of others who came to our assistance in this great time of need."
---
FACTS
GLOBAL VOLUNTEERISM
Philanthropy funds many programs, and volunteers are more active than ever.
31%
OF DONORS
worldwide give to NGOs, nonprofit organizations and charities located outside their own country
77
MILLION PEOPLE
in the US volunteer their time, talents and energy to help others every year
42%
OF DONORS
worldwide give in response to natural disasters
#1
PRIORITY
of philanthropic foundations globally is education
77%
OF PEOPLE
believe everyone can make a difference by supporting causes
---
HELP RESTORE HOPE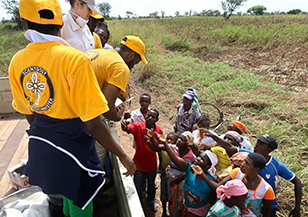 Volunteer Ministers are on call across the globe and around the clock to respond to any and every disaster. Your contribution will fund volunteers' travel as well as food, water, tents and medical supplies for disaster victims.