THE FIJI ISLANDS WELCOME VOLUNTEER MINISTERS JUST IN TIME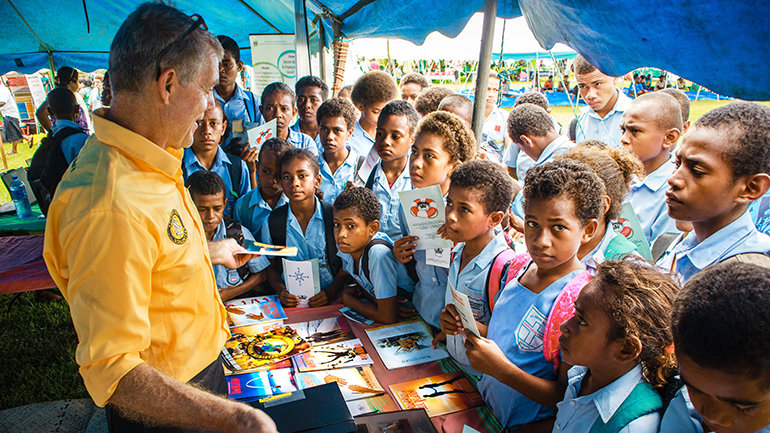 Scientology Volunteer Ministers bring new hope and skills to the friendly people of the Fiji Islands after two cyclones slash through the archipelago.
The some 330 islands of Fiji abound with beauty, all-inclusive resorts, cruise ships and scuba diving, as well as the tourists who come with them. But when the Volunteer Minister South Pacific Goodwill Tour arrived, they came to help those who help others, Fiji's true beauty—the Fijian people. The tour was based in Suva, Fiji's capital, on its largest island, Viti Levu.
The VMs had barely set foot on the island when Cyclone Josie hit, causing floods and leaving four dead. The provincial administrator asked the VMs for a presentation of their disaster response actions and the 19 Tools for Life VM courses. The VMs joined the Government Roadshow—the name for the visits that officials make to far-flung island communities to bring resources. Still traumatized by the cyclone, residents were given Locational Assists so they could observe that the environment was no longer dangerous and be able to start creating life anew.
The provincial administrator then introduced the VMs to the Director of National Disaster Management Organization in the town of Ba. Just as they arrived there, a second cyclone, Cyclone Keni, hit that location, taking eight lives and displacing 8,000. The VMs went right to work, cleaning up the devastation and delivering spiritual first aid. A headman had severe bruising and fatigue from hours working in flooded areas to help his people. He was given Scientology assists and felt such relief that he gave the VMs permission to do the same for the rest of his people, which they did. The high chief of Tavua, a chronic insomniac, experienced similar relief and had his first sound night's sleep in years. As the VMs worked, evacuation camps were soon emptied. Word of their results spread, and they were invited to the Western Division Government Roadshow on Moala Island, 160 km by boat from Suva. There they trained local Fijians to deliver assists and delivered Tools for Life courses.
The tour continued helping Fijians improve their lives and achieve their goals. This included in Lawai village in Lautoka, the second largest city on Viti Levu, and at a Methodist convention in Wailotua village. They also traveled to Kade village, on Koro Island, training a local Fijian VM group and helping build a new primary school. In six months, the Goodwill Tour reached 140,000, trained 1,000 in VM tech and taught them the VM motto: "Something Can Be Done About It."
---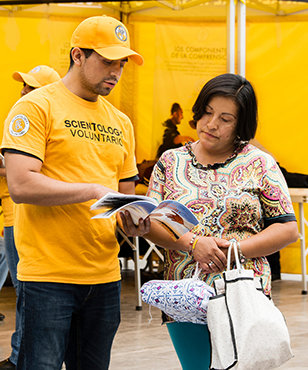 TAKING ACTION
Help Others Help Themselves
In his article "Religious Influence in Society," Scientology Founder, L. Ron Hubbard, wrote: "A Volunteer Minister is a person who helps his fellow man on a volunteer basis by restoring purpose, truth and spiritual values to the lives of others. A Volunteer Minister does not shut his eyes to the pain, evil and injustice of existence. Rather, he is trained to handle these things and help others achieve relief from them and new personal strength as well."
The Scientology Handbook has 19 chapters, each providing a Volunteer Minister the tools needed to accomplish these goals. They have been made available as free online courses anyone can do to learn the technology, not only for their own benefit but to then go out and help and teach others.
Visit volunteerministers.org/training to do the online courses, and contact us to join our ranks as a Volunteer Minister.
---
HELP BRING RELIEF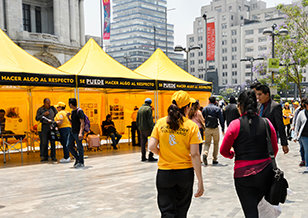 Volunteer Ministers are on call across the globe and around the clock to respond to any and every disaster. Your contribution will fund volunteer travel as well as food, water, tents and medical supplies for disaster victims.