REACHING OUT TO THAI FAMILIES AND CHILDREN WITH TOOLS FOR A BETTER LIFE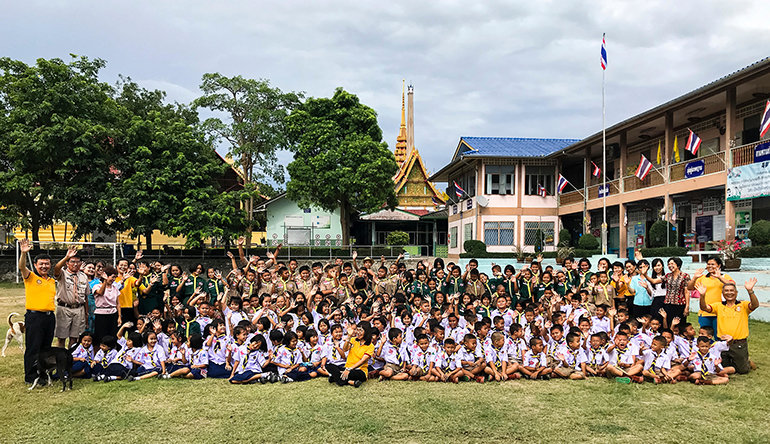 The Volunteer Ministers in Thailand work to bring peace back to a nation under military rule.
Lumpini Park in Bangkok, Thailand, is named after Lumbini, Nepal, the birthplace of Buddha. It was originally established on royal property in the 1920s by King Rama VI. Like the park, the Buddhist nation carries a spirit of tolerance, tranquillity and peace. However, with military rule in place since a 2014 coup, there are ripples in the Thailand pond.
Bringing back a spark of hope to Lumpini Park were the tri-peaked yellow tents of the Scientology Volunteer Minister Southeast Asia Goodwill Tour. The head of the Si Racha Red Cross officiated its grand opening, and a performance of victory drums and Thai dancers—traditionally used to uplift morale of Thai soldiers in wartime—brought smiles to attendees. Once the tent was open, seminars were held on Assists for Illnesses and Injuries, Targets and Goals and a third on the Communication Course.
As Thai people live longer and have fewer children, the family structure has shifted away from extended families, which used to give people a community and support system. Concurrently, parents in poor rural areas leave their children to the care of grandparents, while they seek better financial opportunities in the urban cities.
"The 'Something Can Be Done About It' Goodwill tent arrived in Thailand to assist citizens to enhance their abilities."
So the Volunteer Ministers focused on the support of children and the family unit. In accordance with this, they gave a series of seminars at the Wat Prapathanporn Elementary School, reaching 139 students, as well as their teachers. The seminars focused on tools for being happy and how to deliver assists to help with spiritual and physical distress. They further trained members of the Village Health Volunteers in assists.
Universal Daily News announced that "the 'Something Can Be Done About It' Goodwill tent arrived in Thailand to assist citizens to enhance their abilities." The tour reached more than 30,000 people with the message of hope in the first month, and they are just getting started.
---
FACTS
GOODWILL TOURS REACH EVERYWHERE
No place is too far or forgotten for the Scientology Volunteer Minister Goodwill Tours.
549
LOCATIONS
visited internationally by Volunteer Minister Goodwill Tours in the past year
23,378
PEOPLE TRAINED
as Volunteer Ministers by Goodwill Tours this year alone
37,606
MILES TRAVELED
by Goodwill Tours this year to reach everyone, anywhere
135,681
VOLUNTEER HOURS
contributed in a year, delivering L. Ron Hubbard Technology for disaster response and resolving life's problems
336,491
PEOPLE
given one-on-one help by Goodwill Tours this year
---
HELP BRING RELIEF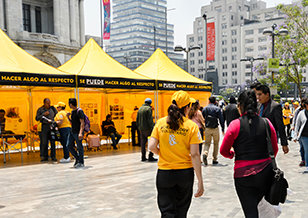 Volunteer Ministers are on call across the globe and around the clock to respond to any and every disaster. Your contribution will fund volunteer travel as well as food, water, tents and medical supplies for disaster victims.