A BUSY DAY OF HELP NEAR THE EIFFEL TOWER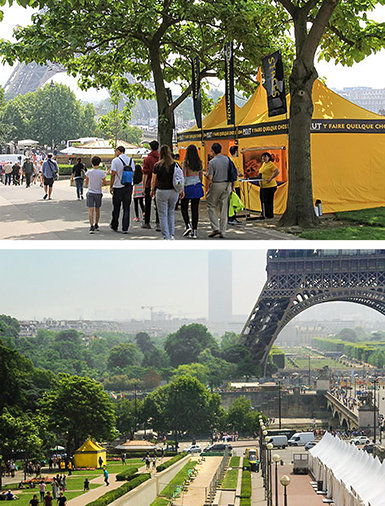 French Volunteer Ministers' yellow tents rise across Paris to bring help to one and all.
In the shadow of Paris's Eiffel Tower are the Trocadéro Gardens. Created for the Universal Exposition of 1937, the gardens feature the Warsaw Fountains, with 20 water cannons putting on their daily water display. Gracing the Trocadéro recently was our Volunteer Ministers' yellow tent, offering help and solutions to Parisians and tourists alike.
One such person was a 70-year-old man who experienced great relief from a Scientology assist, so much so that he declared the Volunteer Minister who administered it a magician. But no, it is not magic, but simply the workability of the Scientology technology provided in the Assists for Illnesses and Injuries booklet.
Volunteer Ministers regularly set up their tent in the capital of France. Just a few weeks prior, it was placed in another iconic Parisian location, the Place de la République, which includes a monument that reflects the glory of the Republic of France.
Church of Scientology VMs across the globe, such as those in Paris and Dublin, bring out their tents on a regular basis to provide the practical tools of The Scientology Handbook to people of all faiths or beliefs, to give them immediate solutions and help them lead happy and prosperous lives.
---
WE REALLY WANT TO

HEAR

FROM YOU
The free Tools for Life online courses are available to anyone, anywhere, with 19 sections teaching practical tools for success.
COMPLETED THE HOW TO RESOLVE CONFLICTS COURSE
I am glad I have received data discovered by L. Ron Hubbard on the causes of conflicts. This has opened my mind on how conflicts have happened both in historical events and in my private life.
COMPLETED THE HOW TO RESOLVE CONFLICTS COURSE
The theory on how to solve conflicts helped me to solve some difficult problems which arose in my family, in my work and in society. I am happy and I sincerely thank you for this course. I promise I will help others to also gain this knowledge.
COMPLETED THE EMOTIONAL TONE SCALE COURSE
This course helped me to be able to observe people better in order to see how reliable they can be and also to know how to encourage them more efficiently and positively without creating upsets in the process. For me, this has been very helpful in managing my relationships with others.
COMPLETED THE ASSISTS FOR ILLNESSES AND INJURIES COURSE
I broke a bone in each foot when I fell in my front yard. I later went back to where the incident happened and did a Contact Assist as explained in the Assists for Illnesses and Injuries course. It went just as the booklet said it would, and then it got better. I continued doing assists like this, and my doctor said that I healed amazingly fast.
COMPLETED THE COMPONENTS OF UNDERSTANDING COURSE
I feel fortunate to know such important data on this vital topic of communication. Now I understand the reasons why relationships become difficult or fail and how successful ones work. I am happy to have this information in my hands.
---
FACTS
TOOLS FOR LIFE'S PROBLEMS
The Scientology Handbook provides tools to deal with everyday situations such as these:
$635
BILLION
is the estimated amount spent on chronic pain in the US each year
20
people
per minute are physically abused by an intimate partner in the US—that is 10 million men and women a year
35%
of women
worldwide have experienced violence from an intimate partner
264
million
children internationally do not attend school
45%
of children
aged 15 to 17 who do go to school will actually finish secondary school
---
HELP SAVE LIVES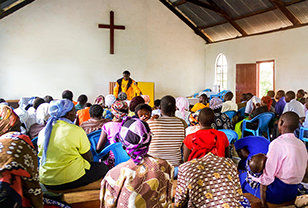 Volunteer Ministers are on call across the globe and around the clock to respond to any and every disaster. Your contribution will fund volunteer travel as well as food, water, tents and medical supplies for disaster victims.