MILANO RESIDENTS RECEIVE A HELPING HAND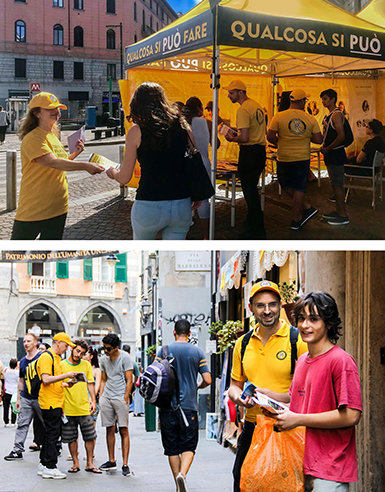 From everyday life situations to disasters, Milano VMs are there for the community.
The Milano Volunteer Ministers regularly visit the community, offering help to anyone and everyone. Their yellow tent graces the Piazza Argentina, where locals can read panels covering The Scientology Handbook's 19 chapters, pick up a booklet on any of those subjects and even receive seminars on site. Two visitors shared that they had always been intrigued by Scientology and were pleased at how open the tent was and how easy it was to visit so they could find out for themselves.
Another visitor, the president of an Afghan community group in Italy, saw the value of the Scientology courses for his group and left with a Fundamentals of Public Relations booklet. A Brazilian woman had traveled the world studying many subjects, yet felt she had achieved no results with them. She realized she had misunderstood words after learning about Study Technology.
VMs also go to where the need is greatest, such as when the Morandi Bridge collapsed in Genoa, south of Milano, killing 43 and leaving the city in shock. Immediately, the VMs were on the ground, offering succor and helping locals to look to the future. They went on foot, street by street, stopping to speak to citizens.
Whatever are the problems, large or small, the Milano Volunteer Ministers are there to help.
---
WE REALLY WANT TO

HEAR

FROM YOU
Volunteer Ministers around the globe work with government officials, schools and the community to provide relief and solutions and, in return, those so helped express appreciation.
MAYOR OF ALOTENANGO MUNICIPALITY, GUATEMALA
"We want to thank sincerely the International Association of Scientologists for the great support that they have given to this community. In the most difficult moments, you have been with us. For that reason, we would respectfully ask for your materials (The Scientology Handbook) for all members of the Executive Council and the people who have assisted us greatly. These materials are great and, thanks to the professional people who came here and did a great job, we know we will be able to use this information to get through these hard times."
DIRECTOR, WAT WANG HIN SCHOOL, THAILAND
"I am writing to express again my sincere gratitude and appreciation to you for your teaching at Wat Wang Hin School. I would particularly like to express again my thanks for your supporting our English class."
REWA PROVINCIAL ADMINISTRATOR, FIJI
"After experiencing their courtesy call to the Rewa Office and seeing the booklets and materials they provide, I am in a position to say that the seminars and courses the VMs deliver are very much relevant to our community and province, especially the ones on disasters and life skills."
HEADMASTER, GOVERNMENT JUNIOR HIGH SCHOOL, SEMBALUN, INDONESIA
"After the earthquake, we—especially the students, teachers and administrative staff—feel grateful for the volunteers who have helped to eliminate the trauma that we have felt. We express our gratitude for the discovery of the Nerve Assist by L. Ron Hubbard, who is a very extraordinary person because his discoveries have helped many people."
---
FACTS
GOODWILL TOURS REACH EVERYWHERE
No place is too far or forgotten for the Scientology Volunteer Minister Goodwill Tours.
549
LOCATIONS
visited internationally by Volunteer Minister Goodwill Tours in the past year
23,378
PEOPLE TRAINED
as Volunteer Ministers by Goodwill Tours this year alone
37,606
MILES TRAVELED
by Goodwill Tours this year to reach everyone, anywhere
135,681
VOLUNTEER HOURS
contributed in a year, delivering L. Ron Hubbard Technology for disaster response and resolving life's problems
336,491
PEOPLE
given one-on-one help by Goodwill Tours this year
---
HELP BRING RELIEF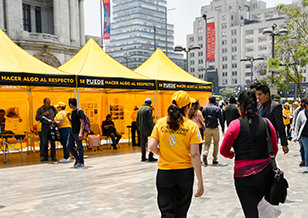 Volunteer Ministers are on call across the globe and around the clock to respond to any and every disaster. Your contribution will fund volunteer travel as well as food, water, tents and medical supplies for disaster victims.