VOLUNTEER MINISTERS DELIVER AT DUBLIN MARATHON EXPO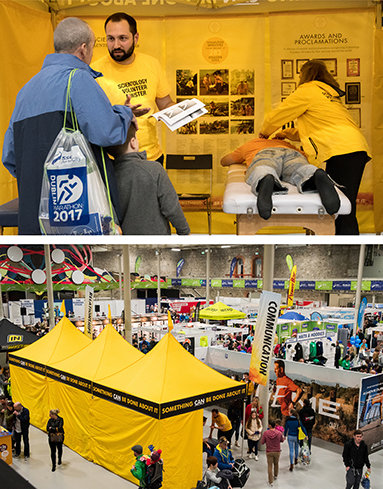 VMs help Dublin Marathon Expo athletes and attendees with effective tools for life.
As part of Ireland's recent two-day Dublin Marathon Expo, a Volunteer Minister tent was set up in the Royal Dublin Society hall, where VMs introduced the community to Scientology Tools for Life, administered assists and answered many questions.
The theme of the expo, in celebration of the Dublin Marathon, was sports and health, and many runners, guests and other exhibitors visited the Volunteer Minister tent. The VMs delivered hundreds of assists, with the tent's three assist tables in use continuously over the course of the event. Nerve Assists were especially popular and lines formed constantly throughout the day with people eager to experience for themselves this unique form of help.
The visitors were not only helped to feel better, but had life-changing realizations as well. Some were deeply thankful—even in tears—for the chance to experience the power and effectiveness of VM tools. A wife resolved to learn the technology of assists to help her husband, just as the VM had helped her. Another woman wanted to bring her friend back the next day as the friend was not getting the relief she expected from other methods she had been trying. In contrast, after the assist she said, "This technique here works!"
---
WE

really

WANT TO HEAR FROM YOU
The free online Tools for Life courses give people the technology to solve common and not-so-common life problems, and here is what some of the students had to say:
FROM ECUADOR, COMPLETED ALL 19 COURSES
"I want to thank L. Ron Hubbard for this knowledge and method. The 19 courses have helped me understand and handle life, from the skill of communication which is vital, to having the power to properly do investigations and find the why of situations, to how to organize my company, and the management of ethics which is essential for survival. I have also acquired knowledge to help people with drug problems, with their marriage and with their children."
FROM UKRAINE, COMPLETED THE TECHNOLOGY OF STUDY COURSE
"The end result is that I learned something so very useful that is such a universal instrument in life—the technology of study. This knowledge has helped me at work, in school and everywhere. The simple but clear indicators to look for and the steps to take to remedy any of the manifestations of the barriers to study are so powerful. This results in being able to live more freely and to have more confidence."
FROM ANGOLA, COMPLETED FUNDAMENTALS OF PUBLIC RELATIONS
"I say thank you to the supervisor for all efforts, and I remain grateful to the Church of Scientology. This training is undoubtedly unprecedented insofar as it constitutes a true turning point, if not a revolution, in the history of distance education. By learning, I understand things differently than ever before. The methodology of this teaching, which I personally judge better than any other face-to-face training, has brought me and will bring me the indispensable tools in my personal, professional and social life."
---
MAKE HELP POSSIBLE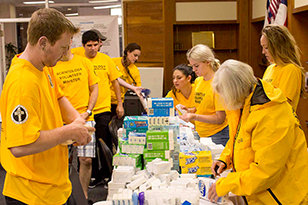 Volunteer Ministers are on call across the globe and around the clock to respond to any and every disaster. Your contribution will fund volunteer travel as well as food, water, tents and medical supplies for disaster victims.