VOLUNTEER MINISTERS OF BUDAPEST LEND A HAND WHENEVER AND HOWEVER NEEDED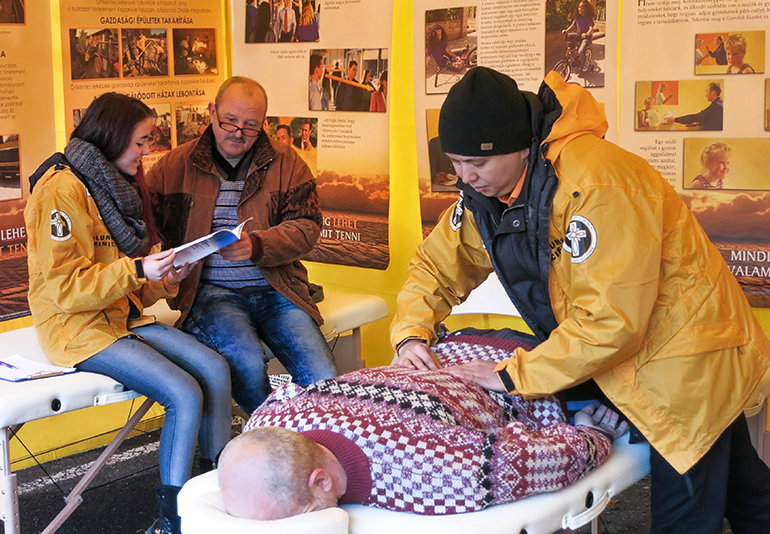 Everyone needs help at one time or another, in some aspect of their life, be it in the form of spiritual consultation or emergency first aid, and these Volunteer Ministers provide it all.
A Volunteer Minister is the "barefoot" minister of Scientology who, as defined by L. Ron Hubbard: "does what he does because he sees that people need a hand and he knows that with Scientology something can be done about it."
And while disaster response, for which VMs are widely known, might catch the headlines, it is what VMs do day to day, in their own communities, for their families, friends, co-workers and neighbors that is their principal ministry.
Take, for example, the VM group from the Church of Scientology Budapest, Hungary.
This team regularly erects their distinctive "yellow tent" in public squares, inviting any and all to stop by for free one-on-one spiritual help. Whatever the problem, these VMs know something can be done about it. They deliver on-the-spot assists—spiritual processes undertaken to help a person confront physical difficulties—and give personal consultation on anything from resolving marital disputes to beating drug abuse.
But part of VM know-how is recognizing when physical address is needed before spiritual assistance will avail. As L. Ron Hubbard wrote: "First aid always comes first.…[An assist] will not shut off a pumping artery, but a tourniquet will."
It is what VMs do day to day, in their own communities, for their families, friends, co-workers and neighbors that is their principal ministry.
Therefore, in addition to the first aid rendered in disaster response—such as that during the 2016 Sri Lankan floods—the Budapest team found a way to provide for those in critical condition before the emergency even occurs, by, starting in 2002, teaming up with the Red Cross for blood drives. "You can save three lives with a single blood donation," reports the Red Cross. Therefore, these VMs donate their own blood so that many others might live.
Finally, for a more "pedestrian" example: VMs noted dangerously iced-over streets and sidewalks and went to work, breaking the ice and clearing the streets of their district.
And so it goes—day to day, actions big and small—this Budapest team lends a hand whenever and however needed.
---
FACTS
SCIENTOLOGY ONLINE COURSES
The "what," "where" and "how many" we train on free Scientology online courses.
19
COURSE TOPICS
on subjects from "Answers to Drugs" to "How to Resolve Conflicts" to "Communication."
198
COUNTRIES & TERRITORIES
have students enrolled in a Scientology online course.
16,339
NEW ENROLLMENTS
in the last year alone—that's more than 44 courses started a day.
2,083
LESSONS GRADED
in just one week, each lesson representing another workable solution to one of life's problems.
10,440
PEOPLE HELPED
in the past 4 years by students applying Scientology technology learned on the VM courses.
---
DONATE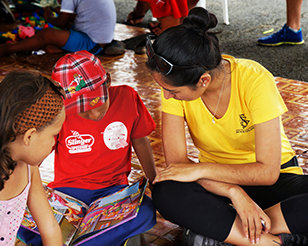 Volunteer Ministers are on call across the globe and around the clock to respond to any and every disaster. Your contribution will fund volunteer travel as well as food, water, tents and medical supplies for disaster victims.