COSTA RICAN VOLUNTEER MINISTERS ANSWER THE CALL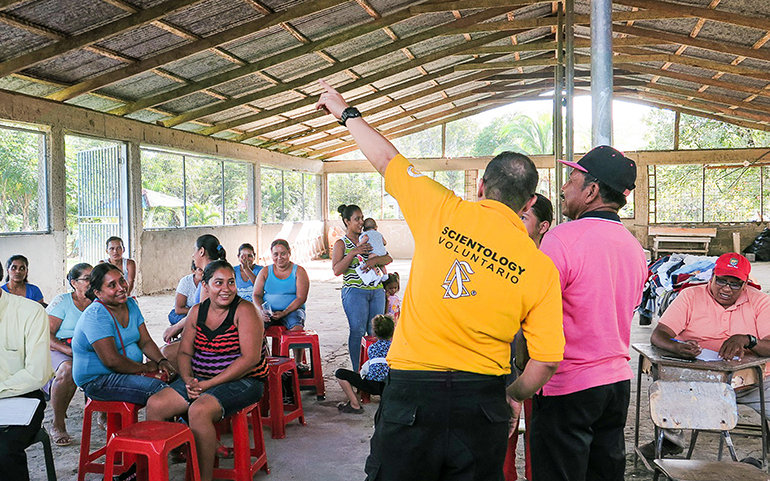 Just in its first year, the new Costa Rican Volunteer Minister group gains national recognition as the ones who can do something about it.
This is not the story of a hurricane. It is the birth of a Volunteer Minister group in Costa Rica and what a year can do.
In January 2016, the Latin America Volunteer Minister Goodwill Tour landed in San José, Costa Rica and set up their VM tent. In the few weeks following ribbon cutting, the VMs had ministered Scientology technology to over 5,000 and delivered special seminars to firefighters and the police.
When the tour moved on, it left in its wake a new Costa Rican Volunteer Minister group of 20 members who were anything but inactive: They put up the VM tent throughout 2016 and into 2017, delivered regular seminars and one-on-one assistance and advanced their own expertise in Scientology technology.
Their first test came in November when Hurricane Otto moved through Costa Rica, dumping a month's worth of rain within a few hours. The city of Upala was hit hardest: landslides, houses flooded, roads obstructed, cars overturned and family members dead or missing. The president declared the country to be "in a state of mourning" and called on the people of Costa Rica to "unite, like a national family."
The Volunteer Ministers answered the call.
Volunteer Ministers traveled to Upala. They asked what was needed and wanted and then delivered it. The first day they gave some 200 assists—spiritual processes to help a person confront physical difficulties. Mothers with their children formed a line to the Volunteer Minister tent asking to receive "an assist from the volunteers of Scientology." Scientology assists provided spiritual and mental relief to the trauma families experienced, augmenting the physical and medical help they were receiving.
For those physical needs, the VM team also organized dinner for 300 at the shelter, delivered basic supplies to 250 and cleaned up 19 public facilities and spaces. In the morning, they organized breakfast for 300 and delivered more assists. VMs took roll call of the children so parents would know their children were safe. They gathered and distributed 300 pieces of clothing, cleaned another 20 houses and assisted nurses at the hospital to clean and care for patients. In just these first two days, they helped 600 people. And they continued.
Channel 7 and Channel 11 took notice and interviewed the Lead Volunteer Minister on national TV. His message: VMs are here to bring relief and calm and to help people however we can.
Then, exactly a year after the Goodwill Tour founded the group, the Minister of Health called upon the then one-year-old Volunteer Minister team to train her own national personnel in VM technology so as to be better prepared next time.
---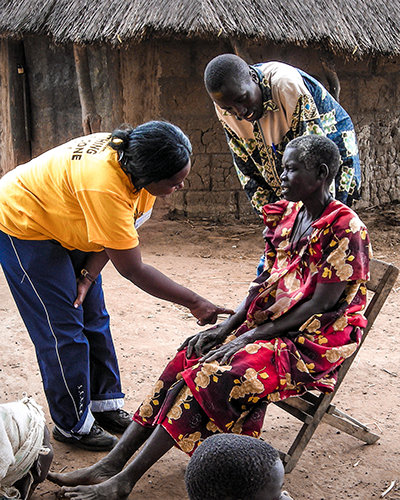 TAKING ACTION
Your Story Could Be Featured
Are you inspired by accounts of the indiscriminate kindness and help of the Volunteer Ministers (VMs)? Have you ever wondered if your own VM story could be told?
The Volunteer Ministers form a global network of individuals and groups using the powerful technology contained in The Scientology Handbook to bring to the world conscience, kindness, love and freedom from travail, by instilling into it trust, decency, honesty and tolerance. As you are reading this, you are likely already part of the team.
If you have successfully ministered Scientology VM technology to improve lives and would like to share your challenges and successes with others, we'd like to hear from you for the possibility of being featured in a future newsletter.
Contact us. We will interview you by phone or email as needed and then write your story.
We are waiting to hear from you!
---
DONATE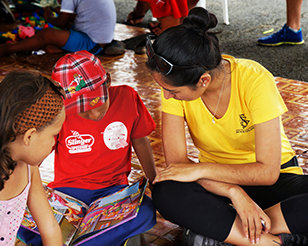 Volunteer Ministers are on call across the globe and around the clock to respond to any and every disaster. Your contribution will fund volunteer travel as well as food, water, tents and medical supplies for disaster victims.