VOLUNTEER MINISTER RECEIVES WHITE HOUSE AWARD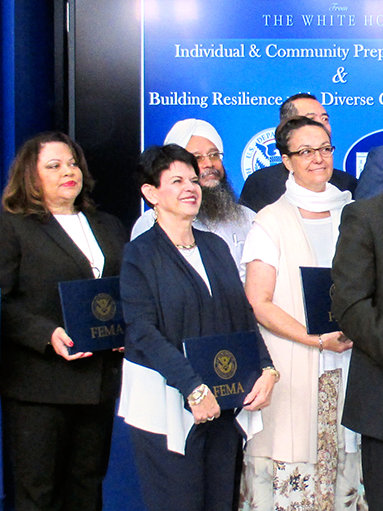 LA County Interfaith Clergy Coalition and its lead VM are formally acknowledged.
Rev. Janet Weiland, Southern California Director of the Churches of Scientology Disaster Response, was honored this fall at the White House, along with other members of the Los Angeles County Interfaith Clergy Coalition, for their work to promote disaster preparedness and ensure the safety of the entire community.
Receiving the award alongside Rev. Weiland were Leslie Luke, Deputy Director of Los Angeles County Emergency Management, Bishop Juan Carlos Mendez of Churches in Action, Osas Otasowie of the American Red Cross, Greater Los Angeles Region, Adnan Khan of the Council on Pakistani American Affairs, Curtis Hsing and National Volunteers of the Buddhist Tzu Chi Foundation. The Church of Scientology Los Angeles is an active member of the Los Angeles disaster preparedness Team. Its Volunteer Ministers Corps is on call to respond to any and all emergencies.
The White House Office of Faith-based and Neighborhood Partnerships which bestowed the award was created by executive order to coordinate community disaster response efforts. It works to build bridges between the federal government and nonprofit organizations, both secular and faith-based, to better serve Americans in need.
---
WE

really

WANT TO HEAR FROM YOU
People the world over find solutions to life with the free online Volunteer Minister's courses. Here is what a few recent graduates have to say:
S.K. FROM KARACHI, PAKISTAN, COMPLETED THE TECHNOLOGY OF STUDY COURSE
"I have decided to recommend this course to all my fellow classmates, but above all, I want to bring a change in my society. All my school life I was pushed to get an A grade or to be awarded with the bright-star trophy, but in reality I wasn't studying anything or even gaining any knowledge. I was just a part of the race that every other student was running in. But as they say it's never too late to adopt a healthy habit, and it's never too late to learn. That's exactly what I have done after doing this course. It has changed the way I study completely. I have never felt so satisfied with my efforts. Thank you Volunteer Ministers for guiding me and making me study the right way. It's a lifetime change you've brought in me."
A.M. FROM THE USA COMPLETED THE HOW TO RESOLVE CONFLICT COURSE
"Wow! I can say I have enjoyed this course. I have used this personally, and it works. I often see so much conflict, so much discourse, between nations, groups, relationships (i.e., marriages), and to know that there is a root cause to all of it is really invaluable knowledge. I know I can help aid those who may be having conflicts to resolve them, based on using the tools I have learned from this course. This makes me feel that I can be of value to my fellow man. Everything that I learn, I want to share and use for the benefit of others."
---
ENABLE THEM TO RESPOND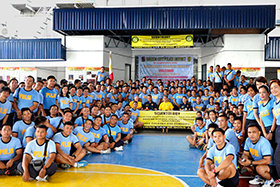 Volunteer Ministers are on call across the globe and around the clock to respond to any and every disaster. Your contribution will fund volunteer travel as well as food, water, tents and medical supplies for disaster victims.