ICONIC SAN DIEGO LOCATIONS GET VM TENT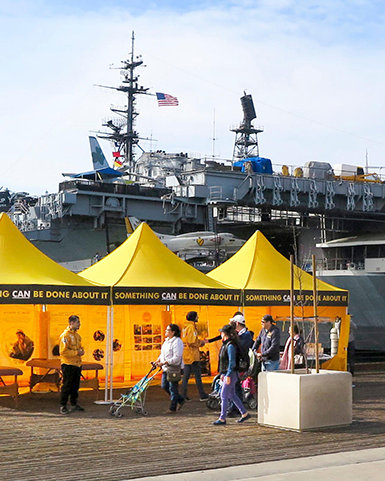 VM tent graces Balboa Park and the boardwalk of the USS Midway in San Diego.
The VM Goodwill Cavalcades not only criss-cross the planet, but Churches of Scientology set up VM tents in their own cities. San Diego did just that with their yellow peaks gracing the boardwalk near the USS Midway­—­the biggest tourist destination in San Diego—and at the much-loved Balboa Park, all in one day. The USS Midway, a retired aircraft carrier, is now a naval museum, listed as the sixth top US museum to visit.
Those from every walk of life visited the tent on the boardwalk, from a rickshaw driver, to a fisherman, teenagers on skate boards, recent college graduates, and businesspeople. No matter the problem they presented, there were Scientology tools to offer them to improve conditions in their lives.
That same day the VMs placed the tent at the 8th annual Finish Chelsea's Run at San Diego's Balboa Park. The purpose of the run is to recognize and support young people who will make the world a better place. The VMs didn't just provide water bottles to the athletes, but gave assists and delivered courses on tools young people need to succeed in making the world a better place: The Communication Course, The Technology of Study Course and The Basics of Organizing Course.
---
WE

really

WANT TO HEAR FROM YOU
Wherever a Volunteer Minister tent is placed, lives are changed for the better, such as for the visitors to one such tent in Antwerp, Belgium. Here is what some had to say:
ASSISTANT HEADMASTER, ADAKLU SENIOR HIGH SCHOOL, GHANA
You have devoted your time and resources and taken students through easy learning strategies. They are now curious and read whatever material they come across. Words cannot express the magnitude of the effect of your activities on the students.
TEACHER, UNIVERSIDAD PÚBLICA DE EL ALTO, BOLIVIA
The Universidad Pública de El Alto is pleased to recognize the Scientology Volunteer Ministers for their work in training students. This recognition aims to acknowledge the contribution and value of the information received by students who have the challenge of putting into practice what was discussed in the classrooms.
FLORIDA STATE SENATOR, USA
Hurricane Irma was an extremely powerful and catastrophic hurricane. The Volunteer Ministers team provided evacuees and others in need with more than 1,000 hot meals and tens of thousands of vitally needed items. In preparing to respond to future disasters, the team trained people on its Volunteer Ministers course in responses intended to lessen loss of life. I hereby recognize the Scientology Volunteer Ministers Program for its generous continued support of Miami residents at a time when it was most needed.
TOTOLAPAN CONSTITUTIONAL MUNICIPAL PRESIDENT, MEXICO
Thank you for your work in training on what to do during an earthquake and Solutions for a Dangerous Environment. This is very useful for students of the different educational institutions and the inhabitants of our community. Thank you again for your contribution to our municipality.
---
FACTS
VOLUNTEER MINISTER RESULTS
VMs are on call 24/7. Here are the stats showing what that means in terms of help.
5.4
MILLION
people helped one-on-one internationally in the last 12 months
72
MILLION
reached through the media in one year, pointing them to solutions for everyday life problems
432,152
VOLUNTEER HOURS
by VMs this year in the name of help, be it at natural disasters or with everyday crises
640,512
MILES TRAVELED
by Volunteer Ministers through plane, train, car, boat or any other means to help others in one year
102,177
TRAINED
as Volunteer Ministers this year alone
---
MAKE HELP POSSIBLE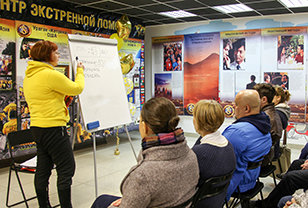 Volunteer Ministers are on call across the globe and around the clock to respond to any and every disaster. Your contribution will fund volunteer travel as well as food, water, tents and medical supplies for disaster victims.