LAVA AND ASH CAN'T STOP THE HELP OF THE VOLUNTEER MINISTERS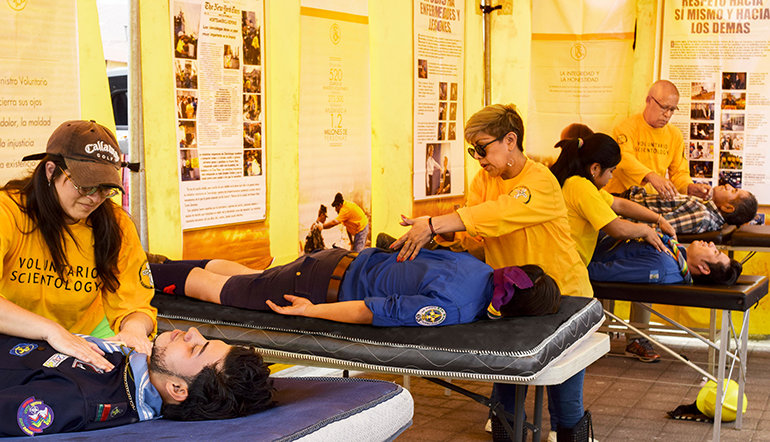 Scientology Volunteer Ministers were on hand to provide both spiritual and material relief when the Fuego Volcano in Guatemala claimed 110 lives.
Volcán de Fuego (Volcano of Fire) in Guatemala is one of Central America's most active volcanos, but its eruption of June 3, 2018, proved to be its most deadly, killing at least 110 people, most of whom lived in villages on its slopes. It wasn't the lava that was fatal, but a torrent of "pyroclastic flow," a mass of ash and lava particles that cannot be outrun, that reaches speeds up to 450 mph/700kmh, and is scorching hot. This same type of flow destroyed the Roman city of Pompeii.
In addition to two subsequent eruptions, hot lava still blocking roads made the efforts of rescue workers even harder. With more than 3,500 now evacuated, shelters were set up while families searched for the missing and dead. Within a day of the first eruption, Guatemalan Scientology Volunteer Ministers were on the ground and soon joined by a team of VMs from Mexico and Costa Rica, as well as the Los Topos (the Moles)—specialists in such rescue operations.
The VMs first provided basic needs, from toiletries for those who lost their homes, to new boots for firefighters whose boots were so caked in ash and mud as to be unusable. They delivered Scientology assists to alleviate the mental distress. Then, to ensure the locals were better prepared for any such future emergency, the VM team then carried out training seminars from The Scientology Handbook's 19 chapters. They trained the mayor of the city of San Juan Alotenango and his personal staff on the Basics of Organizing course. After the course, the city staff worked out a new Organizing Board, adding to it a section for preventing and handling disasters.
The mayor expressed his gratitude for the VMs' care: "You arrived at the beginning of the disaster," he said, "Now you have trained us on the Organizing Board and that has become a key action for us as we were in confusion. By using the Organizing Board we can accomplish more as we now know what to do and who does what."
The VMs also joined forces with the army to construct temporary homes for those in shelters. They delivered training to university and nursing students and Boy Scouts who had helped in the relief effort.
Within two months of the first eruption, the VMs directly helped over 13,400 and trained 639 in the technology to help themselves and others.
---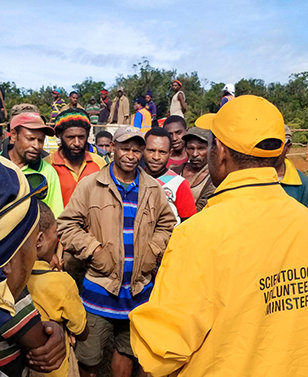 TAKING ACTION
Join Us in Times of Need
The Volunteer Ministers are known world over for being one of the first private relief forces to arrive at the scene of disaster and the last to leave. To do that requires a network of trained and ready Volunteer Ministers who can respond in times of need.
If you would like to become part of this network, do the free Scientology Volunteer Ministers online courses at www.volunteerministers.org, especially the Assists for Illnesses and Injuries, Solutions for a Dangerous Environment and Communication courses.
These courses will give you the basic technology you need to hit the ground running if disaster strikes. Even if you do not have disaster relief experience, you will be trained further on the ground and will become even more confident in helping others. Let us know you want to be part of our Disaster Relief Force by contacting us. Watch scientology.tv/Binod-Sharma, as an example of disaster response in action.
---
HELP SAVE LIVES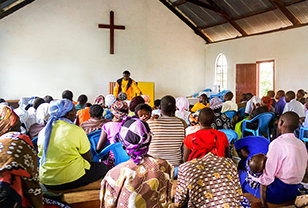 Volunteer Ministers are on call across the globe and around the clock to respond to any and every disaster. Your contribution will fund volunteer travel as well as food, water, tents and medical supplies for disaster victims.