MEXICO FINDS RELIEF WITH REAL HELP FROM TIRELESS VOLUNTEER MINISTERS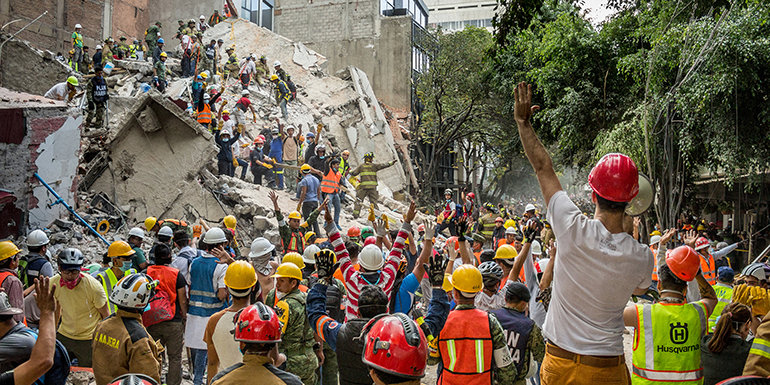 Living their motto, "Something can be done about it," Volunteer Ministers answer the call, bringing hope and succor to those in need after a 7.1 quake topples Mexico City.
On the 32nd anniversary of the 1985 Mexico earthquake that claimed the lives of 10,000—and within a few short hours of the ceremony commemorating it—nature struck again on the same September day with a magnitude 7.1 quake.
Centered about 75 miles from Mexico City, the disaster killed 361, injured 6,000 and tore buildings to the ground across Central Mexico. The story is in the lives saved by the brave and selfless heroes who did something about it.
Immediately following the quake, hundreds of Scientology Volunteer Ministers (VMs) answered the call. They worked alongside their partners, the legendary search and rescue team, Los Topos, (meaning "The Moles" in Spanish). Experts at digging through rubble and rescuing those trapped, Los Topos are known by men, women and children from Japan to South America who thank them for saving their lives.
Paulina Gomez is one of them. Two days after the Mexico earthquake, after 36 straight hours of work, Los Topos pulled her from beneath the remnants of the Enrique Rebsamen School. In the following days, Los Topos went on to save more than 40 such trapped victims.
The Church of Scientology Mexico quickly became the headquarters for Los Topos and others responding to the disaster. There, VMs received, organized and distributed some 96 tons of donated supplies, with weary responders napping briefly and refueling between 8.5-hour shifts of grueling physical work.
Bright yellow VM tents began popping up across Mexico City, sites where one and all could find water, food, medical supplies, diapers and baby food. There they would also find a patient ear or rejuvenating assists—techniques Scientology Founder L. Ron Hubbard developed to help speed recovery from stress and trauma. As hundreds of civilians across Mexico City joined forces with VMs, donning yellow shirts and adopting their motto, assists were one of the first tools they learned to help survivors.
With word of collapsed schools and trapped students, many children were afraid to return to school, so VMs delivered seminars and assists to hundreds to pull them out of the shock and help them overcome their fears. It worked, and the students felt safe enough to return to school.
VMs trained, gave seminars and assists to more than 10,000 and helped more than 140,000 in relief efforts in subsequent weeks. And while September 19 will forever be remembered as the day when not one, but two, earthquakes shook Mexico to its core, it will also be remembered as a time its people came together with VM technology to save lives and rebuild.
---
TAKING ACTION
Join Us in Times of Need
The Volunteers Ministers are known world over for being one of the first private relief forces to arrive at the scene of disaster, and the last to leave. To do that requires a network of trained and ready Volunteer Ministers who can respond in times of need.
If you would like to become part of this network, do the free Scientology Volunteer Ministers online courses at www.volunteerministers.org, especially the Assists for Illnesses and Injuries, Solutions for a Dangerous Environment and Communication courses.
These courses will give you the basic technology you need to hit the ground running if disaster strikes. Even if you do not have disaster relief experience, you will be trained further on the ground and will become even more confident in helping others. Let us know you want to be part of our Disaster Relief Force by contacting us so that we can add you to our email alert system and contact you when VMs are needed.
---
MAKE HELP POSSIBLE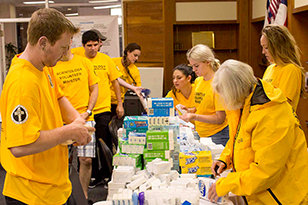 Volunteer Ministers are on call across the globe and around the clock to respond to any and every disaster. Your contribution will fund volunteer travel as well as food, water, tents and medical supplies for disaster victims.