HAITI GAINS TOOLS TO RISE ABOVE THE RUBBLE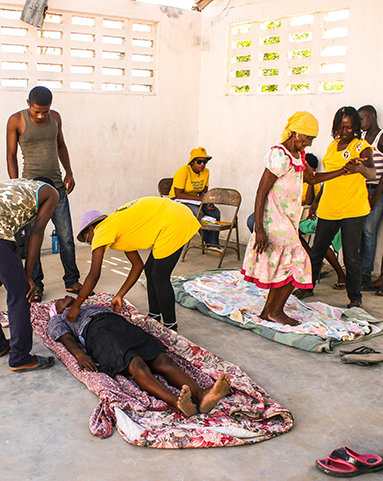 Haitians don't just experience miracles of VM tech, they learn it to stand on their own.
When Hurricane Matthew tore through Haiti in October 2016, killing over 1,000, veteran Volunteer Ministers deployed for emergency response and to help rebuild. They found villages decimated and homes with nothing more than half a door and a concrete slab. Villagers were in shock, and some were still standing, doing nothing weeks after.
Veteran VMs gathered a core of 30 local VMs and implemented a daily schedule of disaster response by day and seminars by evening, each on a chapter of The Scientology Handbook: Tools for Life film, to eventually train each as certified VMs. They set about salvaging, rebuilding and anything needed—administering first aid, giving assists to the distraught, filtering drinking water, removing rubble and dead trees, rebuilding churches—every facet of disaster response.
In each new village, people formed around them and jumped in to contribute. Soon, the whole village was helping, awakened by the VM "something can be done about it" attitude. VMs then trained eager villagers in VM technology, leaving behind new VMs. In this way—helping and then teaching to help—following the hurricane, VMs trained 1,029, delivered 2,038 assists and helped 22,718 people.
---
WE

really

WANT TO HEAR FROM YOU
The free online Volunteer Ministers courses provide real solutions to life's real problems. Here is what a few recent graduates of the courses shared with us:
A.R. FROM ARGENTINA COMPLETED THE TECHNOLOGY OF STUDY COURSE The benefit this course provided to my life is invaluable, especially in my professional life as a doctor, which requires ongoing study and training. It is very important to have a study technology that always works and this course provides it, so the gratification I feel encompasses any benefits I will get in the future. Simply thank you.
M.E. FROM EGYPT COMPLETED THE EMOTIONAL TONE SCALE COURSE This course opened my eyes to the kinds of personalities we meet every day. Now I can choose which person I can be associated with and determine which one can be potentially dangerous or a liability to me. After learning to spot the emotional tone of each one, now I can understand the people around me and communicate with them according to their tones.
C.K. FROM HUNGARY COMPLETED THE ASSISTS FOR ILLNESSES AND INJURIES COURSE I had severe pain. So I did an assist. After the assist, I quickly realized what had happened and the pain vanished.
J.C. FROM VENEZUELA COMPLETED THE ETHICS AND THE CONDITIONS COURSE Doing this course and getting all this technology has been wonderful for my life. This has given me the tools to handle situations that previously I had no idea how to handle. Now I know that by following the right steps, I can improve any condition in which I find myself. When I helped a friend to find out what condition he was in, he immediately knew where and how to solve it. This is really a tool that works to improve life.
---
DONATE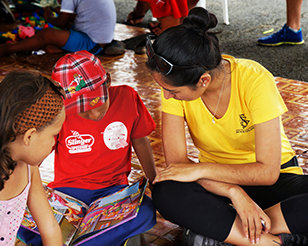 Volunteer Ministers are on call across the globe and around the clock to respond to any and every disaster. Your contribution will fund volunteer travel as well as food, water, tents and medical supplies for disaster victims.