VM TECH PLUS FIRST AID EQUALS MORE LIVES SAVED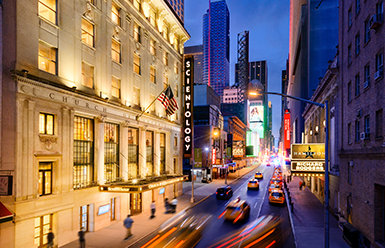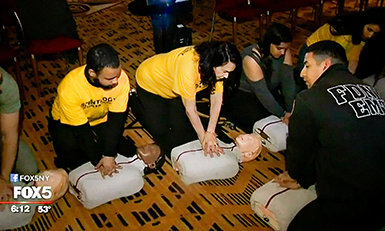 After saving a life, a New York Scientology VM was inspired to share his training.
I was in Times Square and a guy collapsed on the street in front of me. I gave him CPR and brought him back to life," said a Scientology Volunteer Minister and former Israeli Army paratrooper who now lives in New York. CPR, or cardiopulmonary resuscitation, is an emergency lifesaving procedure performed when the heart stops beating.
He was so inspired by being able to save a life due to his training, he decided to spread the invaluable skill of CPR to others. He contacted the New York Fire Department and lined up a CPR workshop for fellow parishioners in the Chapel of the Church of Scientology New York—located just blocks from Times Square where the incident occurred.
An EMT/CPR instructor taught and drilled attendees on the full CPR procedure using CPR dummies. Channel 5 Fox News attended and aired the training, including interviews with Volunteer Ministers who spoke on the value of VM technology and how VMs handle situations when people need help.
"Today I learned how to save a life. That was amazing," said one participant. "Now I not only have the Volunteer Minister spiritual technology, I have this first-aid tool to help people survive in different emergency situations."
---
WE REALLY WANT TO

hear

FROM YOU
Here is what those volunteering and those helped by VMs responding to a California wildfire had to say:
VOLUNTEER MINISTER
"It felt really good to support such a worthy cause. It was empowering to see all of the other volunteers that were doing their part to pull together in this community's time of need. Although I hate that people are forced to have to endure such hardships, I thoroughly enjoy being of service to other wonderful volunteers and those in their community they serve!"
DISASTER SURVIVOR, NOW A VOLUNTEER MINISTER
"It was an honor to be able to give back in helping those who have suffered such horrendous loss at this time. To know that I am giving back because someone gave to me is the greatest gift that I can give, for I know what it is like to lose. I was in the Harvey thunderstorm in Texas, which is where my son and I are from. My passion is always in helping people to better themselves in any capacity that I can. What a blessing to do what I love to do."
PROFESSIONAL JOINING THE VOLUNTEER MINISTERS
"I must say it is very empowering to be able to help others that are in need and to see the look in their eyes when they are lost for words. I know at that point that it is no longer about words, but it's about compassion. I have had an extraordinary experience to serve as a volunteer."
LOCAL RESIDENT
"Well, I am very proud of you all. I have been an architect in this area for 50 years, and I am also a Christian and I care about people. God bless you for what you are doing."
FROM A SECURITY GUARD ON DUTY AT AN EVACUATION CENTER
"You Scientology Volunteer Ministers are true to your motto—'Something can be done about it.' You've made the fire victims feel welcomed and really cared for. I respect you and your purpose here, and it's been an honor to work with you."
---
FACTS
GLOBAL VOLUNTEERISM
Philanthropy funds many programs, and volunteers are more active than ever.
31%
OF DONORS
worldwide give to NGOs, nonprofit organizations and charities located outside their own country
77
MILLION PEOPLE
in the US volunteer their time, talents and energy to help others every year
42%
OF DONORS
worldwide give in response to natural disasters
#1
PRIORITY
of philanthropic foundations globally is education
77%
OF PEOPLE
believe everyone can make a difference by supporting causes
---
HELP RESTORE HOPE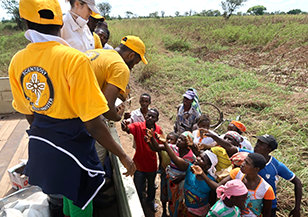 Volunteer Ministers are on call across the globe and around the clock to respond to any and every disaster. Your contribution will fund volunteers' travel as well as food, water, tents and medical supplies for disaster victims.