NATIONAL FOOTBALL CHAMPIONSHIP PLAYERS FIND RELIEF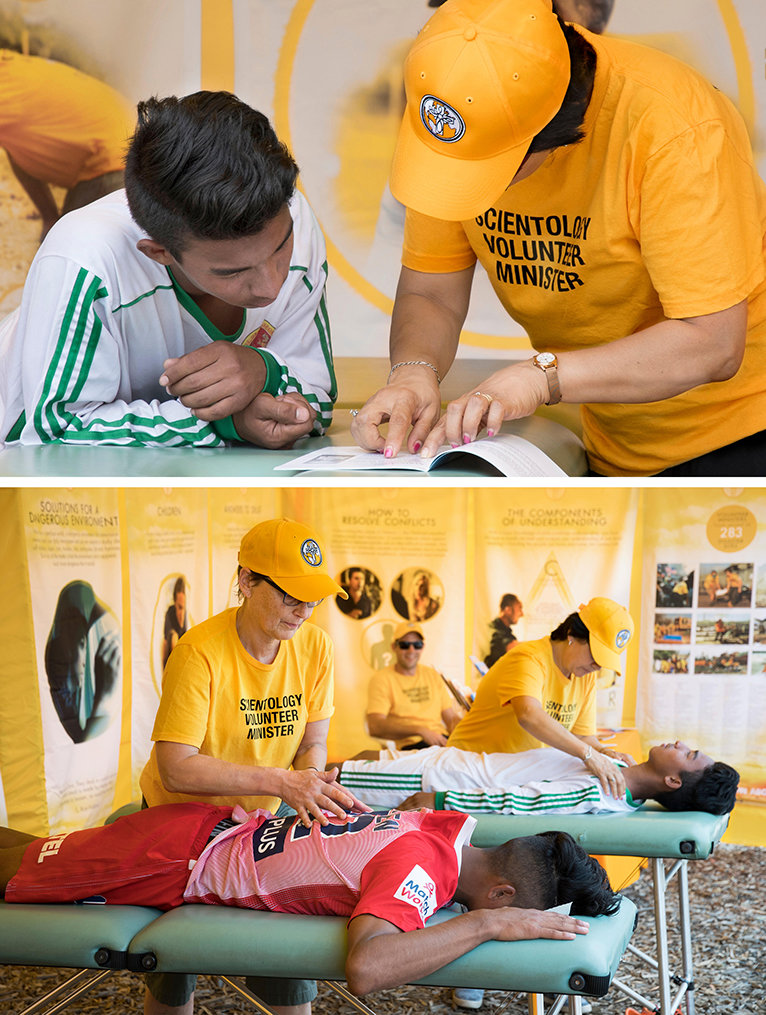 The Volunteer Ministers provide assists to athletes, bringing relief and success.
The Scientology Volunteer Ministers received an invitation to set up their yellow tent and provide services at the Australian Bhutanese National Football Championship. Bhutan, a country in the Himalayas, landlocked between Tibet and India, has a thriving refugee community in Australia.
The championship is sponsored by the Himalayan Youth Foundation, Hamro Parampara Foundation and Bhutanese community in Australia. Thirteen soccer teams from different states converged in Melbourne for the championship games, and the VMs were there to provide assists to the players of all of them. Scientology assists are special techniques that address the mental and spiritual aspects of a person's physical difficulties. Soccer players, attendees, staff of the sponsoring foundations and family members came flooding in for assists from the VMs.
One player had earlier received an assist at the VM tent at another Melbourne City game. He went into that game feeling much better, his team won and he was recognized as the Best Player.
Seeing the yellow tent again at the championship, he brought five teammates with him for assists—and their team won the tournament.
---
WE

really

WANT TO HEAR FROM YOU
Wherever a Volunteer Minister tent is placed, lives are changed for the better, such as for the visitors to one such tent in Antwerp, Belgium. Here is what some had to say:
BAKERY OWNER
It is great to see you bring your yellow tent again to our area. Since you have had the tent here the drug dealers have stopped coming, which is very good as this area is visited a lot by kids and teenagers who come to play football and volleyball.
BUSINESS LEADER
I just went through all of your panels and everything you say here is true. Please give me some additional materials to read at home.
YOUNG BOY
This is great! When can you give a Touch Assist to my mum?
PAKISTANI IMMIGRANT
I love your work. I am free on the weekends, and I would like to assist you with your activities.
NON-PROFIT DIRECTOR
I am very interested in your tools to use in my work. You are uplifting the area with your tent.
NEPALI IMMIGRANT
Thank you so much for all the help you gave in Nepal after the earthquake we had. I have heard about it from friends.
MOTHER
Thank you for the Nerve Assist. It handled the pain in my body.
NEIGHBOR
Now that I see the tools you have to change things for the better, I finally feel hope that for the first time there are solutions and not just problems.
HUSBAND
I have been having a lot of trouble in my marriage. Thank you so much for your booklet.
---
FACTS
SUMMARY OF 2017 DISASTERS
A record year of natural disasters mobilized thousands of Volunteer Ministers
10
hurricanes
back to back in a two-month period, four of them being category 4 or 5 intensity
$306
BILLION
at least, in damage in the U.S., making it the costliest U.S. year on record due to natural disasters
10,000
DEAD
from natural disasters worldwide
312,859
HOMELESS
worldwide due to natural disasters
239,984
INJURED
in natural disasters internationally
---
MAKE HELP POSSIBLE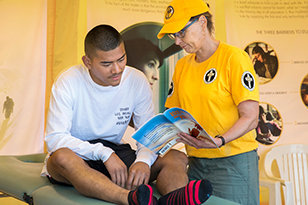 Volunteer Ministers are on call across the globe and around the clock to respond to any and every disaster. Your contribution will fund volunteer travel as well as food, water, tents and medical supplies for disaster victims.