POVERTY AND ILLITERACY AFFLICT A VACATION PARADISE
Fiji Islands pastor uplifts village with VM Technology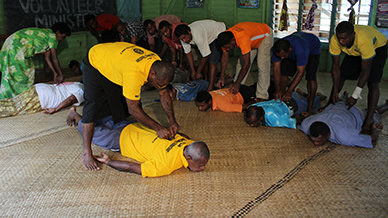 The name "Fiji" typically instills visions of a vacation paradise, picturesque South Pacific islands renowned for a thriving luxury tourism industry. But the sad truth is that a third of Fiji's population in rural villages lives in abject poverty and illiteracy.
One such inland village in Ra province on the main island of VitiLevu is Nalalawa, population 265. Village Headman and Pentecostal Pastor Alifereti Naqeleca Waqa, better known as Pastor Alfy, has long dedicated himself to uplifting his people from the ills that plague them. All Pastor Alfy lacked was the means to turn his dreams to reality.
In 2006, when a Scientology Volunteer Ministers Goodwill Tour pitched its signature yellow tents on the island and offered training in 19 practical technologies, Pastor Alfy found exactly what he was looking for but had not imagined existed: a wide array of "Tools for Life" subjects from The Scientology Handbook. He personally embarked on study of the courses: how to study and learn, relieving illness and injury, improving parenting and family stability, resolving conflicts, and many more.
"When I saw the Volunteer Minister booklets, I knew that this was for me, that they had the solutions I needed to help the youth in Fiji," Pastor Alfy said. "It changed my life and the lives of youth. I told my people 'it's not about preaching, it's about living—and it's real'."
The Pastor soon formed a Volunteer Minister group to teach villagers how to deliver Scientology assists to bring about spiritual and physical relief. In one seminar, a man receiving an assist that alleviated his intense pain described the Scientology technology as "a working miracle."
Soon the Pastor's seminars were in demand by chiefs of neighboring villages, pastors, police, teachers and village elders. Pastor Alfy says, "I have in my heart the Volunteer Minister motto—'Something can be done about it'—and I live it every day."
That motto was put to the test when in 2012 and 2013 flooding hit a nearby village and Pastor Alfy and team answered the call for help, using their Volunteer Minister disaster response training. Next they were called to Vanuatu, an island nation west of Fiji, to provide assistance after a cyclone, and then Alfy traveled to Nepal in 2015 following the devastating earthquakes.
Pastor Alfy has now trained every member of his village, young and old, in Volunteer Minister technology. His community has been officially named a "Scientology Village," and its citizens and leaders now help not only themselves lead better lives but are fully prepared to help anyone."
---
HELP IN TIMES OF DISASTER
Volunteer Ministers answer the call in times of disaster to help anyone, anywhere get back on their feet and to help whole nations rebuild.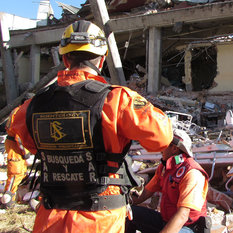 PAKISTAN:
Volunteer Ministers arrived to deliver assistance after Punjab province suffered monsoon rains.

MEXICO:
Volunteer Ministers answered the call after liquefied propane gas exploded, flattening the area.

DOMINICA:
Volunteer Ministers mobilized immediately after Tropical Storm Erika demolished half the island.
---
TOOLS FOR LIFE
To contact a Volunteer Minister for one-on-one assistance, to schedule an on-site seminar, to view chapters of the Tools for Life film or sign up for an online course, visit www.volunteerministers.org. In addition to online and on-site training, anyone with a desire to help others, no matter their creed or faith, may enroll at any Church of Scientology for training as a Volunteer Minister.
Free Online Courses
---
SCIENTOLOGY VOLUNTEER MINISTERS
Helping in Times of Need
Volunteer Ministers are on call at any time to respond to any disaster, natural or man-made, to help those in need. Donations help support the transport of VMs across the world, and provide the vital basic resources for the victims of disasters—food, water, tents and medical supplies.