FROM DRUG ADDICT TO LIFESAVER
Using the Volunteer Ministers' Online Courses to Save Lives
Anyone, anywhere in the world, may enroll on one or more of the Scientology Handbook—tools For Life Courses that are the heart and soul of the Volunteer Ministers program. The courses, free of charge on the volunteerministers.org website, provide practical assistance with life's everyday challenges.
Pablo Venezuela Vivian from Sonora, Mexico, says he "completely turned my life around" with the online courses. And he has decided to take the knowledge and insights he gained and share it with many more.
Vivian was addicted to crystal meth when his family sent him to a drug rehab center in Sonora. While there, a friend told him about the Volunteer Ministers online courses. He signed up for the "Answers to Drugs" course and found the information so impacting and useful, it helped him handle his addiction. He continued, doing the "Integrity and Honesty" course, then "Communication," and so on until he had completed all 19 courses and said it was like a "college education on life." With his own life saved, as he describes it, he wanted to give back, so he started giving seminars to others at the drug rehab center. A chef by profession, Vivian continues to volunteer at the center, delivering three or four seminars each week. Many who attend the seminars then sign up for the free online courses to learn the full data for themselves.
Vivian says he uses the technology he learned from the tools For Life courses in every aspect of his life. "Whether at work in the kitchen or just out on the street or wherever I am, I can always successfully help anyone with injuries, marital problems, addiction, trauma, family problems, spiritual problems—anything."
He cites but one example: A man who attended Vivian's seminar on Assists for Illness and Injuries approached Vivian afterwards and said that his mother had been in a coma for a week. Vivian visited her on two consecutive days and administered the "Unconscious Person Assist." She came out of the coma on the second day.
For his unstinting desire to give back, Vivian received recognition from the rehab center for "helping hundreds of people in the rehab process and their families ... with the technologies of Scientology Tools for Life, and to the Church of Scientology for providing the study materials and videos for the Volunteer Minister training."
---
REACHABLE BY ANYONE, ANYWHERE
No matter the disaster—a natural disaster affecting a whole island or those smaller disasters in one's home—Volunteer Ministers are there to help. They and their tools can be found in many different ways: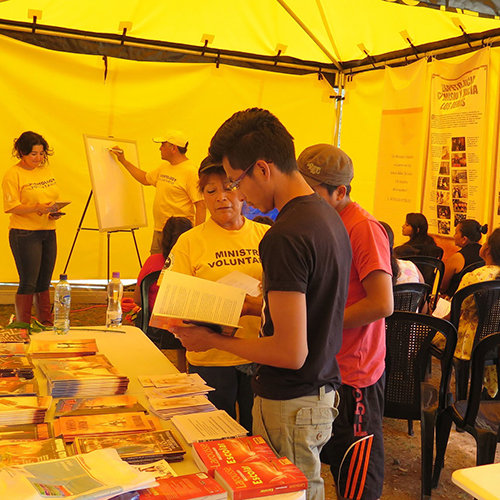 Online:
The
Volunteer Minister website
received 1.6 million visits in the past year.

Tools for Life:
The Volunteer Minister
Tools for Life film is available on DVD
and
online, with tools for everyday life problems
.

The Yellow Tent:
The Volunteer Ministers' yellow tent has been set up in 1,167 locations on six continents in the past year alone.
---
TOOLS FOR LIFE
To contact a Volunteer Minister for one-on-one assistance, to schedule an on-site seminar, to view chapters of the Tools for Life film or sign up for an online course, visit www.volunteerministers.org. In addition to online and on-site training, anyone with a desire to help others, no matter their creed or faith, may enroll at any Church of Scientology for training as a Volunteer Minister.
Free Online Courses
---
SCIENTOLOGY VOLUNTEER MINISTERS
Helping in Times of Need
The Volunteer Ministers are on call at any time to respond to any disaster, natural or manmade, to help those in need. Donations help support the transport of VMs across the world, and provide the vital basic resources for the victims of disasters—food, water, tents and medical supplies.