VOLUNTEER MINISTERS RUSH TO LOUISIANA TO SAVE CITIZENS AND PROPERTY FROM DEVASTATING FLOODS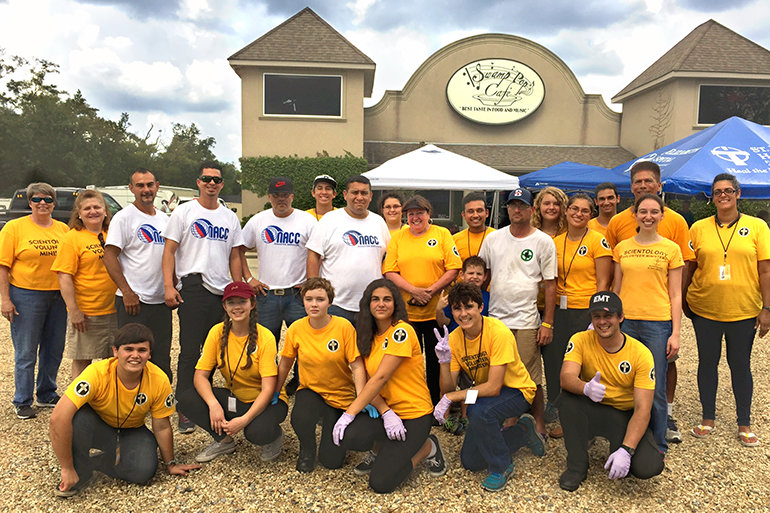 August's deluge dumped more than twice the water on Baton Rouge as Hurricane Katrina in 2005. Scientology Volunteer Ministers rushed to the scene to help, and have been working there ever since.
As storms pummeled Louisiana, the Scientology Volunteer Ministers Disaster Response Team arrived and continues today working with other volunteer groups to help local residents get back on their feet.
Some Volunteer Ministers (VMs) are organizing and distributing supplies in a local shelter. Others are helping salvage belongings and cleaning mud and debris out of homes. Still others are delivering assists to address trauma, injury and stress. VMs are also helping alongside the National Guard along with volunteers from the Red Cross, Louisiana University, the Cajun Army, the Cajun Green Cross and many other different groups and churches.
One grateful woman described the VMs, "Like angels coming out of the sky. Your yellow shirts are just like a ray of light."
Cathy, a volunteer from Baton Rouge, has never seen anything like these floods, which damaged or destroyed some 60,000 homes, where 20,000 people had to be rescued.
"Like angels coming out of the sky. Your yellow shirts are just like a ray of light."
"Hurricane Katrina dropped 3 trillion gallons of rain on Louisiana in 2005," Cathy says. "This 'no name' storm last week dropped over 7 trillion gallons of rain and that doesn't include the Amite River which went 10 feet above flood stage and sent huge amounts of water flooding into Baton Rouge and the surrounding areas. Watson, where we live, got the most rain in the state, 32 inches in 24 hours, an unbelievable amount. Some 90 percent of our area, Denham Springs and Watson, were affected—ranging from some water damage to complete loss of property. We have been told this is the worst flood in 500 years."
More than a million responded to Katrina, but on CNN's State of the Union, Louisiana Gov. John Bel Edwards said this disaster has received less attention because it wasn't a hurricane or named storm.
To date, Volunteer Ministers have helped more than 9,500 people in Louisiana, not only ensuring they have the basic essentials of life, but that spiritually they recover from the devastation and loss brought by floods.
---
FACTS
HELP DELIVERED
Not just numbers, they represent the 1,000s of people given true aid by Volunteer Ministers in the last year.
18
MAJOR DISASTERS
saw Volunteer Ministers respond to organize, deliver supplies and offer spiritual first aid.
325
NEW GROUPS
were started to bring effective solutions to more people in more places.
2,711
ONLINE COURSES
were completed by up-and-coming VMs, giving them tools to help wherever and whenever.
196,564
MILES
were traveled by Volunteer Ministers delivering help across the globe.
4.5
MILLION PEOPLE
helped through personal contact with a VM delivering practical assistance and spiritual succor.
---
ENABLE THEM TO RESPOND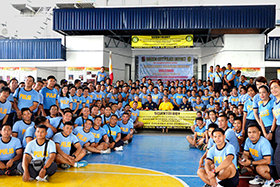 Volunteer Ministers are on call across the globe and around the clock to respond to any and every disaster. Your contribution will fund volunteer travel as well as food, water, tents and medical supplies for disaster victims.