CREATING A FUTURE FOR GHANA'S NEXT GENERATION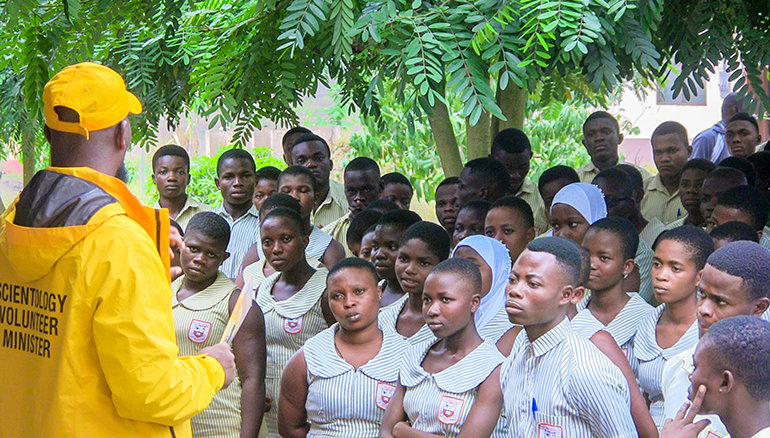 The Scientology Volunteer Ministers bring the Tools for Life to Ghana's far-flung communities to rehabilitate its schools and ignite the nation's future.
Our Volunteer Minister Goodwill Cavalcades visit places that would otherwise have no access to the practical tools The Scientology Handbook contains in its 19 courses. Each location receives delivery tailored to its specific needs. For the Goodwill Tour in Ghana, the issue at hand is education.
As Ghana strives to reach new heights, it depends on the success of its future leaders—the youth. Though basic education is free with an 84 percent enrollment rate, 623,500 children of primary school age are yet not in school. For those enrolled, the school environment is often not conducive to learning—with overcrowded classrooms, minimal facilities and scarcity of trained teachers and schoolbooks. Poor education quality is reflected in students' results; only 16 percent of grade six students are proficient in mathematics and only 35 percent proficient in English.
Therefore, the VM Tour focused on Ghana's schools on their visits to Adaklu and Agotime-Ziope districts of the Volta Region. With the green light from local government officials, they trained 23 teachers and the headmaster of the Adaklu Senior High School on the VM tools.
More than 920 students went through the courses, with a focus on The Technology of Study, in the VM tent set up right on campus. The response was such that the VM team stayed an extra week for further delivery. The Adaklu District Chief Executive expressed his gratitude stating, "We truly appreciate your invaluable contribution in building the capabilities of students who benefited from the program."
The school prefect added, "The study of Scientology courses has been a wonderful program which has proven to students that indeed something can be done about their challenges. Students are now daring to and willing to undertake difficult tasks."
Moving to the Ziope Senior High School, 987 students went through the tent placed on their school campus.
At the Agotime Senior High School, 610 students were trained. All converged for a final graduation, where the VM Tour In-Charge gave out certificates of completion to students and teachers, while he, in turn, received letters of appreciation from each school and from district officials.
In total they reached more than 21,000 and formed 14 VM groups to continue the delivery. The District Coordinating Director concluded, "We, the people of Agotime are grateful and delighted to be part of these proven and tested materials for the benefit of our people. We promise to ensure that the time, the sacrifices and the materials will be put to good use for the betterment of our people."
---
TAKING ACTION
Join Us for a Rewarding Adventure
Be it by truck, four-wheel drive or barge, Scientology Volunteer Ministers Goodwill Cavalcades traverse every continent. No location is too remote or forgotten. They can be found in Africa, Australia, Canada, Europe, India, Mexico, Russia, South America, Southeast Asia, the US, the South Pacific and the Amazon.
In each location, they erect the trusted yellow tents, inviting one and all for training on The Scientology Handbook's 19 courses. They also deliver seminars in schools, businesses and government offices.
Help us help others with these life-changing tools. Join one of our 18 Goodwill Cavalcades as a volunteer, for the most rewarding adventure of all. Contact us to find out more.
See an example of the effect a Volunteer Minister and his team can have on their nation, with the story of Binod Sharma of Nepal at scientology.tv.
---
MAKE HELP POSSIBLE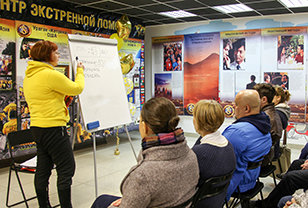 Volunteer Ministers are on call across the globe and around the clock to respond to any and every disaster. Your contribution will fund volunteer travel as well as food, water, tents and medical supplies for disaster victims.